Looking for permalinks? Click on time after each post.
Charles Deemer
Editor,
Oregon Literary Review
MFA, Playwriting, University of Oregon
Writing faculty, Portland State University (part-time)
Retired playwright and screenwriter.
Active novelist, librettist and teacher.
Email: cdeemer(at)yahoo(dot)com

Links:
Electronic screenwriting tutorial
Bookstore
Highlights:
Finalist, Oregon Book Award

Practical Screenwriting

Love At Ground Zero

.
---
Blogs by (mostly) creative writers:

"Can We Talk About Me For A Change?"
Playwright Debra Neff Nathans

Inkygirl
Debbie Ridpath Ohi, a weblog for writers (resources)

Silliman's Blog
Ron Silliman, contemporary poetry and poetics

Maud Newton
literary links, amusements, politics, rants

Darren Barefoot
Technical and creative writing, theatre, Dublin

Rob's Writing Pains
Journey of a struggling writer.

Mad, Mad World
Cara Swann, fiction writer, journalist, "reflections on humanity, random news & my life."

Writeright
Random musings on a writer's life and times.

Flaskaland
Barbara Flaska's compilation of the best online articles about music and culture.

Write Of Way
Samantha Blackmon's written musings on writing (composition and rhetoric).

Alexander b. Craghead: blog
Writing, photography, and watercolors.

Rodney's Painted Pen
Rodney Bohen's daily commentary "on the wondrous two legged beast we fondly refer to as mankind." His pen runneth over.

Frustrated Writer
This one named Nicole.

scribble, scribble, scribble
Journalist Dale Keiger teaches nonfiction scribbling to undergraduate and graduate students at Johns Hopkins University.

The Unofficial Dave Barry Blog
The very one.

The Hive
The official blog of science fiction / horror author Terence West.

William Gibson Blog
Famed author of Neuromancer and Johnny Mnemonic: The Screenplay.

The Word Foundry
Joe Clifford Faust's "blog of a working writer: tracking writing projects, musings on the creative process, occasional side trips into music, media, politics, religion, etc."

A Writer's Diary
By Cynthia Harrison, who has the good sense to quote Virginia Woolf: "The truth is that writing is the profound pleasure and being read the superficial."

Bow. James Bow.
The journal of James Bow and his writing.

Ravenlike
Michael Montoure's weblog about writing, primarily horror and speculative fiction.

Globemix
By David Henry, "a poet's weblog from Aberdeen, Scotland."

Modem Noise
By Adrian Bedford, a "fledgling Pro SF Writer, living in Perth, Australia."

boynton
"A wry writerly blog named in honour of a minor character in a minor Shirley Temple film."

Real Writers Bounce
Holly Lisle's blog, "a novelist's roadmap through the art and ordeal of finding the damned words."

2020 Hindsight
By Susan.

downWrite creative
Phil Houtz's notes on the writing life.

Vivid: pieces from a writer's notebook
Blog of Canadian poet Erin Noteboom.

The Literary Saloon
The literary weblog at the complete review.

Rabbit Blog
The rabbit writes on popular culture.

This Girl's Calendar
Momoka writes short stories.

Twists & Turns
Musings by writer Michael Gates.

Plays and Musicals -- A Writer's Introspective
A blog by John D. Nugent - Composer, Playwright, and Artistic Director of the Johnson City Independent Theatre Company

The American Sentimentalist
"Never has any people endured its own tragedy with so little sense of the tragic." Essays by Mark W. Anderson.

Screenwriting By Blog
David C. Daniel writes a screenplay online. "I've decided to publish the process as a way to push myself through it. From concept to completion, it'll be here."

SeanAlonzo.com
Official site of occult fiction author Sean-Alonzo, exploring symbolism, alternative history, philosophy, secret societies and other areas of the esoteric tradition.

Crafty Screenwriting
Maunderings of Alex Epstein, tv scribe, about life, politics, and the tv show I'm co-creating.

Letters From The Home Front
The life of a writer, 21, home schooled, rural living.

Venal Scene
The blog of bite-sized plays inspired by the news (by Dan Trujillo).

'Plaint of the Playwright
Rob Matsushita, a playwright from Wisconsin, "whines a lot."

I Pity Da Fool!
Glenn's adventures in screenwriting.

Time In Tel-Aviv
Hebrew modern literature at its best, by Corinna Hasofferett.

Big Window
Robin Reagler's poetry blog.

John Baker's Blog
Author of the Sam Turner and Stone Lewis novels.

The Writing Life With Dorothy Thompson
What goes on during a writer's busy day?

The Rebel Housewife
Not just a housewife!

Barry's Personal Blog
A running commentary on writing and the writing life.

Bonnie Blog
Maintained by Bonnie Burton of grrl.com.

Writer's Blog.
By easywriter. "From the walls of caves to cyberspace."

Flogging the Quill
Pursuing the art and craft of compelling storytelling, by an editor, Ray Rhamey.

Man Bytes Hollywood
Sharing tools, strategies and resources for the screenwriter's journey.

Mad for the smell of paper
A writing journal.

The Writing Life
A blog by Katey Schultz.

It Beats Working 9-5
A screenwriting blog by a young Canadian screenwriter.

Stealing Heaven From The Lips Of God
Writer & Artist, Dee Rimbaud reflects upon politics, religion, art, poetry, the meaning of life, the nature of God and why toast always lands butter side down on carpets.

Robert Peake
Heart and Mind, Fully Engage ... a poet's website.

Sidestepping Real
By Ren Powell, poet, children's writer, essayist and editor.
---
The Writing Life...

"An artist's only concern is to shoot for some kind of perfection, and on his own terms, not anyone else's."
J.D. Salinger

"All my best friends are writers and are dead."
A friend over beer, Berkeley, winter, 1959

"And it came to pass that all the stars in the firmament had ceased to shine. But how was anyone to know?"
The Half-Life Conspiracy
After October 31, 2006,
new posts are published at
(Posts archived here are from 01/10/03 - 10/31/06)
Wednesday, August 16, 2006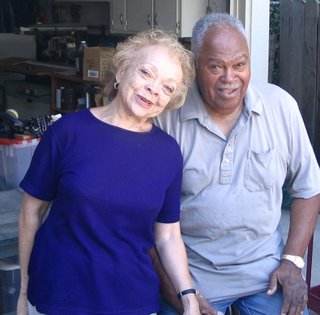 A surprise trip to L.A. to celebrate Tee & Colette's 75th and 70th birthdays
August 6th. Day 1.

LA-bound, camping our way, to surprise a couple friend on Saturday at their 75th and 70th birthday celebration. A late start but made it to a campground along the Rogue River, Valley of the Rogue State Park. Very nice facility! Have the good sense to space their tent sites some distance apart. Quiet, mellow, lots of trees, the river in the distance down a path. Tomorrow we'll get as close to SF as we can since on Tues. we have a lunch date in the city with H's oldest son. Sketch travels like a champ, riding his throne of mattresses and sleeping bags in the back seat. We only went 240 miles today but it was plenty for me. I don't travel nearly as well as I did when I was younger. At least we stopped around 3. Alone, I'd travel 6-noon but with H, 9 to 3 is a workable compromise.
LATER. A long walk along the river led to the area where the RVs set up. What a contrast! Wall-to-wall rigs, as close as in a parking lot at WalMart's. This is camping? Walking along the river, I marveled at how swift the current of the Rogue is. Really hauling ass. Later we found a quiet cove in which the dog splashed around and cooled off. Later still we were surprised by a thunderstorm, covering the supplies on the table and rushing to the car to wait it out. Sketch didn't like the thunder much.

---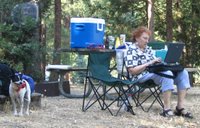 Day 2, Up at 6 to take the dog for a walk. Returned him to the tent with H and I appear to be the only one up in the campground. Will make coffee and relax. I got my first "battery getting low" warning on this AlphaSmart – approaching 3 years of pretty heavy use! Absolutely amazing.

On the road. A glorious morning! A tedious afternoon. After breakfast and a long walk with the dog, still managed to hit the road by 9. A quick stop in Ashland for supplies and gas. Ashland was such a great little town in the 60s. Full of artists and bohemians. Then the Shakespeare Festival got more widely marketed, and the town became the quaint artsy-fartsy spendy touristy place it is today. No respectful bohemian could afford to live in Ashland any more.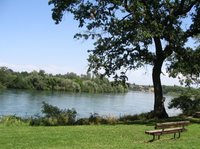 Onward into Calif, past Mt Shasta and the huge sprawling Lake. We stopped for lunch at a gorgeous park on the Sacramento River in Anderson, a town I never heard of let alone stopped at. One of the best river parks I've seen. After lunch, the landscape turns flat and boring, grain- and farmland but without the rolling hills of the Palouse. Earlier, in southern Oregon, we had the brown hills of my youth, the San Gabriels. I love southern Oregon, in terms of its landscape, more than the upper valley. I get no spiritual satisfaction from living in Portland, in fact, although in the 80s, the city's artistic Glory Days, I felt a strong community connection I haven't felt since. Only the university gives me spiritual sustenance in Portland these days. But I can get the same, or something close, from certain landscapes, like southern Oregon and especially the southwest, the southern Utah, 4-corners area, those incredible canyonlands. So we suffered through the flat landscape until we'd put in our six hours of driving. We decided to get a motel and stopped in Williams. Easier to get clean and dressy for the trip into the city, SF, tomorrow, to take H's oldest son, an artist, to lunch. 3 straight days of camping then, and finally into LA. Onward.

Later. H brought her laptop and for the first time used her wireless on it. Here we are in the cheapest motel in Williams in the middle of nowhere, and H is doing her email. What a world.

---

Day 3, Tuesday, Aug 8. This may end up being my least favorite day of the trip, depending on how many times we get lost in SF ha ha. We'll see!

LATER. H the navigator with her wireless connection went to MapQuest for our directions in SF. What a world. Getting out of SF looks more tedious than getting into it. Our campground tonight is some 60 miles south, along the coast, off the main drags. Then tomorrow into Big Sur where we get to stay for a few days! I really look forward to that. Have my camera with me and expect to get some great trees along the coast.

LATER. What a day! First, the SF adventure. We begin on I80 southward toward the city. Traffic across the 4 lanes is light, given the 11am hour, and thank the gods for that. But the freeway needs work, Calif roads apparently much worse off than Oregon roads in general. As we approach the Oakland Bay Bridge, traffic gets more interesting, various feeds coming in until we are ten lanes across. Whoopee! $3 due at a poll booth, after which the ten lanes converge to five and we're off. We find H's son's apt without difficulty, in the Haight district. Indeed, we get lunch to go at a deli near Height-Ashbury, where I haven't been in forty years, but the vibes are the same, little has changed, and some of the characters on the street surely haven't moved since the Summer of Love. We carry out sandwiches to Buena Vista park overlooking the city. Good weather, a fine SF day. Then it's time to go. An easy route out of the city, southward, but then the day's real adventure begins as we follow MapQuest directions to our campsite in the redwoods. We come the back way, over narrow roads climbing into hills, twice almost colliding with someone coming down, once almost being creamed by a log truck that took up the entire road, but we manage to drop into Big Basin Redwood Park and find our reasonably secluded site for the night in a grove of spectacular redwoods. Worth the harrowing drive to get here. Tomorrow it's to Monterey, some sight-seeing, and on the Big Sur for a couple days. Onward.

---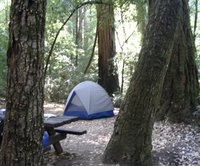 Day 4. Early morning, still in the redwoods. Some of these trees are 1500 years old. At any rate, thinking more about how remarkable it is that Haight-Ashbury still FEELS like it did in the 60s, or close enough to be remarkable. Not so in Portland, where NW is 180 degrees from the Bohemian feel it had up to the early 80s. "This is like Greenwich Village used to be," my NY agent at the time said as a compliment. Now it's gentrified and quaint. Like Ashland today, quaint. QUAINT. The Haight-Ashbury, even today, ain't quaint.

This is so majestic and pleasant, we're actually in no hurry to get out. We only have about 100 miles to drive today but we want to stop in Monterey and look around and take the famous 17-mile drive before hitting our campground. I have done no reading on this trip yet! Maybe this morning. Or maybe I'll write. Onward.



In the Big Sur campsite. Well, our short travel day began by twisting from the redwoods into Santa Cruz, then down the coast to Monterey. I lived in Monterey from Oct 59 to Oct 60 while attending the language school. For the last six months, several of us rented a Party Pad on the wharf – and it's still there! It's about the only thing I recognized. I recognized the pad because of its 2nd story swinging doors that open up over the walkway. It was our escape from the Army. I was delighted to see it still exists and snapped a photo for posterity. Monterey otherwise was beyond recognition, it's grown so much.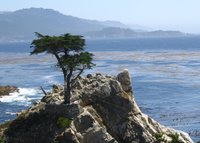 We took the 17 mile drive but it wasn't as spectacular as I recalled, despite several good photo opportunities. Then into Carmel, which they can have despite former mayor Clint Eastwood. A single scoop of ice cream costs almost four bucks and wall-to-wall tourists suggest a subsidiary of Disneyland, CarmelByTheSeaLand. Got out of there as soon as we finished our gold-plated ice cream. The campground next, bug city, driving me crazy, they seem immune from cream for me and the dog, though it works for H. Also, we have one of those campers from hell neighbors with a generator and a record collection he insists on sharing with the world. We are two days here so better get used to it.

---

Day 5, Thursday, Aug 10. Snooping around last night, we learned the real attraction here is the Big Sur River and several delightful swimming holes along it. This is a family attraction as a result. Always full – in fact, "reservations only" for this campground, which of course we made by phone before we left. Or was it by the net? At any rate, here we are, not in the quiet majestic seclusion of redwoods off the beaten path, but in a family favorite right off the highway. Today we'll venture into town to check out the Henry Miller Library. Onward.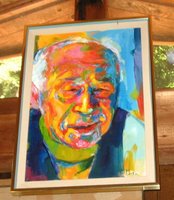 The Henry Miller Memorial Library is funky and perfect. Neither a memorial nor library, it's a hippyish bookstore and place to hang where lawn concerts and readings are often featured.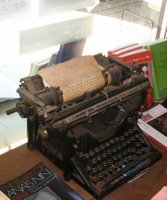 Interestingly enough, tomorrow night Ramblin' Jack Elliott will be there to celebrate his 75th birthday! Alas, we have to get to LA tomorrow.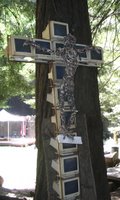 Are we crucifying humanity on a cross of computers? A question Miller might ask.




The Big Sur campground is refreshingly quiet this afternoon, no doubt because all the kids are on the river. Family campgrounds are a good thing, and it's nice to see them all doing things together. However, sometimes an old fart would like to be around considerably less noise and energy. Indeed, a motel is much quieter than this campground once the families return. Which brings something to mind. I think this may be my last extended camping trip. I am at the age where I prefer a bed to a sleeping bag and putting the small tent up and down each day got old quick. I like traveling. I just like showers and beds and privacy. I like motels. Actually I think I could live in a motel. So let's call this the Last Camping Trip. Why not? Has a nice ring to it.

The jays and squirrels around here know no fear. Brazen scavengers.

Oh, yes … this morning I did manage to write a vignette chapter on Sally. Amazing. Except for writing here, I've done no work or reading to speak of. The exception, this morning, and the careful reading of Sally on the first day. But no matter. I'll return full of energy, or as my mother used to say, piss and vinegar.

LATER. Seeing the old Party Pad on the old Monterey Wharf was a highlight of this trip for me. The Army was a pivotal and life-changing experience for me. The advantage of being between wars (Korea and Vietnam)! The year in Monterey at the Language School changed me forever, primarily because of the guys I met, all older, all former grad students in one humanities field or the other – very different from the techies I had been running with until then. My journey to become a writer surely started there, though this was the farthest thing from my mind at the time. But I was introduced to many, many good and important books. The Party Pad, which was a place to drink and party for the several of us who were under 21 and couldn't get into the bars (for a time we did with fake IDs … all of us had one) with consistency. A place off-base to turn loose. The folding doors opened up onto the wharf below, and we play jazz, drank wine, and pretended we were bohemians despite our Army crewcuts.
It was a damn good time, a changing and learning time for me. It's also when I first started playing guitar and banjo in public after my solitary learning time in Berkeley. Soon I would go everywhere with one or the other and play everywhere I went as well, a true folkie. Oh so long ago.

Tomorrow H wants to visit Cambria on Highway 1 on the way. A girl friend recommended it. Maybe we'll stop for lunch there. The tricky part tomorrow is timing our arrival so we miss the worst of the traffic. I say arrive at 3 or at 7. We are staying in Alhambra, the closest place we could find a motel that was dog friendly. Sat. morning we visit H's nephew, then to the surprise birthday party. Sunday is open but we hope to spend it with the birthday couple and with my dear friend Lynne. Head home on Monday then. A straight shot up I5, staying in motels.

This is a good trip but it also will be good to get home, the battery charged, ready to go. I am a home body. My routine is my life and is quite enough most of the time.

Walked away for a moment and a damn bird shat on my AlphaSmart! Back into the case. Onward.

---

Day 6, Friday. LA day. But first the morning at Big Sur, where I'm the first one up in the entire campground perhaps. The wonderful quiet part of the day when even the bugs are still asleep. Sketch got up with me, we took a walk so he could do his business, her perched on my lap for a while to check out the rising jays and ground squirrels, then decided to go back to bed and joined H in the tent. Today will be a tricky day since we definitely don't want to hit LA during rush hour, though it's always rush hour down there now – but there are degrees of congestion. We'll play it by ear at any rate.

Though this may well be "my last camping trip," at least in the sense of one day stays in a pup tent while on the road, I'm glad we're doing it. But the trip really reinforces how happy I am in my quiet routine at home, teaching and writing and minding my own business more or less, not quite reclusive but certainly not very social (far less than H would prefer, in fact) … at this stage of my journey, the routine is perfect for me. At the same time, I look forward to selling the house and embellishing the routine by moving into a facility or neighborhood where everything I immediately need is available on foot … groceries, a cup of coffee, and so on. Hop public transportation to the university but otherwise be self-contained, self-sufficient. The quiet reflective life of aging.

---

Day 7, Saturday. In a motel in Alhambra. What a long harrowing, adventurous day yesterday. 11 hrs to get 300 miles. First, down the coast from Big Sur we hit a fog bank that stayed with us much of the day. We stopped at Cambria, a Disney subsidiary in the making, bought lunch to go. At San Luis Obispo we hit 101, freeway traffic considerable. Stopped at Pismo Beach for lunch at a lovely Oceanside park. Back to traffic, which got very bad at Santa Barbara. Rush hour stuff. Hopped off at Ventura to catch our breath and get coffee. How did I grow up in SoCal and miss Ventura? A lovely town! A beach town for the residents, not the tourists, my kind of place. I'd spend time in Ventura in a heartbeat. Onward. Managed to find the motel around 830, exhausted. Showered, junk food for dinner. Here we are.

Today, lunch with H's nephew, then on to the party. Loaded with maps since we go all over the area. Wonder how many times we'll get lost?

Walking the dog this morning around the rundown neighborhood of our motel, I met a pedestrian, Vietnamese perhaps, who jabbered in his native tongue about the dog and it took me some time to figure out what I believe he was talking about – how tasty this breed of dog is! I swear to the gods, I think he was telling me about dog recipes. That's what I got from his hand gestures anyway. He was hard to get rid of. Maybe he was trying to buy Sketch for dinner. Wow.

LATER. In a park near the party, where we are meeting H's nephew for a picnic lunch. Small lake, very nice, in the middle of the city. AND we drove here without taking a freeway! Very proud of ourselves. A pleasant, sight-seeing drive, much more fun and interesting than the damn freeways everywhere. Seeing LA closer this way, I see and remember what a dirty city it is, at least compared to Portland and Seattle. Lots of trash on the streets, dirt, stench. There are nice neighborhoods to be sure but in general the inner city is not attractive to me. However, this part is very nice. Parks can save cities.

This may be the last time I see some of my LA friends who will be at the party. This is probably my last trip here, for example, and there has been no rush to the NW from LA that I've noticed ha ha. I've known some of these folks for 40 years…one almost 50, we went to the language school together. This trip feels special in this regard.

Tomorrow is open. Laundry in the morning. Then presumably some more intimate time with a few friends. And homeward bound on Monday.

I'm very glad we made the trip but I'll also be damn glad to get home. I'm a homebody.

The motel has DSL, which means we can check email. Nothing exciting on that front. Mainly I had over 1000 spam collected the past week.

I brought the camera, want to get some photos of my LA friends for the blog.

What would I do without this AlphaSmart? It still needs my needs so much more than a laptop. I've been thinking of upgrading to the new model, which has wireless. If I could check email on this, then I'd have no use for a laptop or cybercafe at all when traveling. Best investment I ever made. Still on my original 3-AA batteries, too, after almost three years! There's first rate battery life ha ha.

I'm on a park bench in the shade near the entrance into the park and, man, the cars are lined up to get in here now. A popular place, and I can see why. Nice way to get away from the oppressive heat and grime of the city itself.


EVENING. A fantastic celebration, lots of family and friends present for the senior guests of honor. I saw some folks I haven't seen in forty years. At the same time, I felt a bit on the edge of it all and will more appreciate my visit with them tomorrow minus the crowd. I'm not much for large gatherings any more. And I'm eager to get home and back into my postage stamp of a world, my literary routine.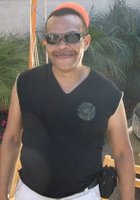 T&C's son Jeff, who is a film editor.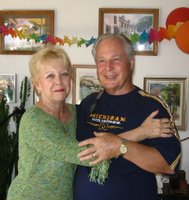 Vicky and Lloyd. I met Lloyd in 1959 at the Army Language School. A retired film editor, he worked on the Dallas TV series for years.

---

Day 8, Sunday. Today's the laziest one of the trip. Do laundry, maybe cruise around, late afternoon visit to our friends. We woke up this morning with a common thought … it would be nice to be home. But not quite yet. We'll get there. It's been a good trip.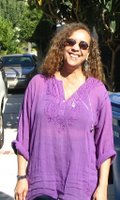 Lynne, a singer/songwriter, one of my favorite people on the planet, who in the 1980s wrote songs for a number of my plays.

My friend L really likes the road novel. Some insightful comments. Some tears and laughter at the right places. Nice to hear from an appreciative reader. She didn't respond to my last one, so this is nice.

A lazy day. Need it.

---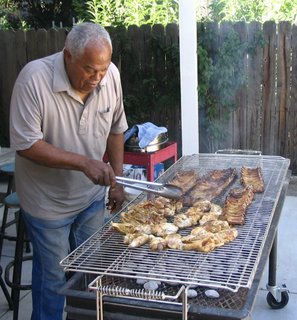 The Master At Work
---

Day 9, Monday. Car trouble? Need to get it checked out this morning.

But last night was spectacular. Tee, the host, did his BBQ thing, of which he is the undisputed champ, small good company, lots of stories over these past 44 years, laughter, etc. The highlight of the trip.

A zero sum universe. Now this morning.

MORNING. Killing time while the car gets looked at.

One thing about this trip, I've seen almost no news. When I do see it, I know it. News is so repetitive, the most boring kind of drama really. It's all murder, mayhem and catastrophe, only the scale and details changing. Maybe when we return I'll stop watching the news. By habit, I listen to NPR in the morning and CBS at night and CNN here and there at home … maybe I'll go cold turkey on the news! I mean, really, it never changes. The same old bad news, ad nauseum.

FROM A MOTEL IN MERCED. Oh, did I mention our motel had no water this morning? No shower, no flushing the toilet. That's how the day began. Then the car problem. But we were off before noon … for about two hours, when we had car trouble again because the mechanic didn't do it right the first time. But we were able to self-administer the fix this time, and the rest of the day went fine. We did switch from I5 to 99N because the latter passes more towns in case we again needed to stop.

Why is the Calif valley, its breadbasket, all that farmland, so damn boring and desolate looking? Flat, I guess. With its brown and gray dusty horizon. Doesn't radiate like the Palouse in the northwest.

So we're in Merced where H had a gal friend, and they are off in search of food take out. I hope today is the most trouble we have on the return trip!

Another thing: there appears to be no coffee culture in SoCal like in the NW. No Starbucks or its rivals easily found. In Pdx or Seattle, you can't go 3 or 4 blocks without a coffee shop on the corner. Not so in LA. We never did find a coffee house. Later, leaving this morning, we saw one off the freeway (a Starbucks).

---

Day 10. From a motel in Weed. What a good day! We got an early start, heading up the endless San Juaquin valley, finally at Stockton (Fat City country) able to leap west to reconnect with I5. This was a relief. 99 was full of trucks and traffic, I5 relatively deserted. Climbed into mountains and country that reminded us of Oregon, to Redding and Shasta Lake and the mountain ahead. Called it a day in Weed, one of my dad's favorite towns. Found a delightful motel and connecting country café, liver & onions for dinner, very fine. And earlier, after two hours on the road, we had our first restaurant breakfast of the trip, a special treat. It was cool enough to leave Sketch in the car. We don't take chances with our important family member, the dog.

So we're thinking a long drive tomorrow to get home. The car holding up, knock on my wooden head. We have about 360 miles, a long day for us, but it doesn't make sense to stop 60 miles from home unless we are really beat. We'll see how it goes.

This has been a good day. The motel is great, and country café is great. We are on a fast running creek and park for Sketch to enjoy. This is good.

---

Day 11. Home! The trip back had a mystical surprise: sunny great weather until we hit the Oregon line, in the Siskiyous, when we are met by a thick drizzly fog bank! No sun the rest of the way. Welcome to Oregon. But we are glad to be safe and sound at home.



8/16/2006 05:24:00 PM | 0 comments



Sketch says, "Happiness is sunshine and a bone."

---